Kuching Specialist Orthopaedics Services is a tertiary orthopaedic hospital for comprehensive management of various paediatric, bone and joints and spine problems. With sophisticated facilities featuring minimal invasive surgery, fast recovery and minimal complication, we have specialized medical, anaesthetic, joint and spine orthopaedic surgeons who provide safe and comprehensive services for all range of Orthopaedic illness and emergencies.

Dr. Wong Chung Chek
Consultant orthopedic spine surgeon
Dr Wong Chung Chek is a consultant orthopedic spine surgeon based in Kuching, Sarawak. He has been practising spine surgery since 2000. He graduated from Unversity of Malaya, Kuala Lumpur in 1992. He was conferred the fellow of the Royal College of Surgeons of Edinburgh in 1996 and subsequently obtained the University of Malaya Masters in Orthopaedic Surgery in 1999. He was the Spine fellow at the University of Hong Kong in 2000.

He pioneered minimal invasive spine work in Malaysia with the introduction of endoscopic assisted anterior surgery to the thoracic, lumbar spine and percutaneous endoscopic transforaminal lumbar discectomy and recently the MIS TLIF using percutaneous pedicle screws. His other areas of clinical interest are complex deformity correction surgery and artificial cervical/lumbar disc replacement.

Dr Wong is the founder and instructor of the Kuching Operative Spine Courses. He is recently elected the AO Spine East Asia chairman for 2010-13. He is also a member of a number of international organisations including the Asia Pacific Orthopaedic Association and the Asian Academy of Minimally Invasive Spine Surgeons.

As many spine surgeries were performed to ease pain and improve life quality, he always aim at restoring patients comfort comfortably

Dr. Lee Woo Guan
Consultant Adult Reconstructive Orthopaedic And Sports Surgeon
MBBS (UM), MMED (SINGAPORE), FRCS (EDINBURGH)
Fellow of Trauma in University of Mississippi
Fellow of Sports Injury & Arthroplasty in Royal Infirmary Edinburgh

Dr. Lee Woo Guan passed his medical undergraduate, MBBS, at University of Malaya in 1993, and the co-joint surgical examination, FRCS (Edinburgh) Master of Surgery (Singapore) at National University of Singapore where he was presented with a Gold Medal (The Chapter of Surgeon) for his excellence in examination in 1997.

He underwent further sub-specialty training In Royal Infirmary of Edinburgh and Princess Margaret Hospital for Joint Replacement Surgery and Arthroscopic Reconstruction and in University of Mississippi for Trauma.

He is the Secretary of National Orthopaedic Subspecialty Training in the field of Arthroscopy Reconstruction. He does wide range of arthroscopic surgeries like arthroscopic stabilization of shoulder joint for recurrent dislocation, arthroscopic ligament reconstruction and meniscus repair for the knee, and etc. He performs joint replacement surgery for the shoulder, hip and knee.

He is also experienced in complex surgery like reconstruction of the pelvis and acetabular surgery.
KPJ Healthcare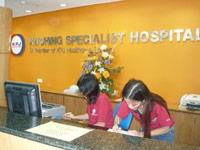 KPJ Healthcare is a healthcare focused group, and its portfolio of businesses includes hospital management, healthcare technical services, hospital development and commissioning, nursing and healthcare professional continuous education, pathology services, central procurement and retail pharmacy. In line with its corporate vision, the Group consistently seeks new opportunities local and abroad, all to ensure the Group's continuous growth. The corporate philosophy which inspires excellence, encourages individual initiative and teamwork, harnesses strategic synergy and the collective focus of its resources, and professionalism contributed largely to the Group's achievements.
The corporate philosophy supported by the corporate mission, to deliver quality healthcare services to our customers' is further strengthened by the Group's 5 Core Values namely Safety, Courtesy, Integrity, Professionalism and Continuous Improvement, which have been internalized by the Group. Through KPJ Healthcare's main strategic business unit, the business of hospital management, the Group owns and manages 13 private specialist hospitals throughout Malaysia. In addition, KPJ Healthcare also manages 2 hospitals in Indonesia and 1 in Dhaka, Bangladesh. The Group has five additional service companies that provide year round services to support the hospitals operations. KPJ Healthcare has a pool of expert professionals and experienced managers giving it a firm foundation within the healthcare industry. As KPJ Healthcare approaches its 25th anniversary, it is positioned to become the major player of healthcare services both nationally and internationally.