About Us
Kuching Specialist Orthopaedics Services is a tertiary orthopaedic hospital for comprehensive management of various paediatric, bone and joints and spine problems. With sophisticated facilities featuring minimal invasive surgery, fast recovery and minimal complication, we have specialized medical, anaesthetic, joint and spine orthopaedic surgeons who provide safe and comprehensive services for all range of Orthopaedic illness and emergencies.
KPJ Healthcare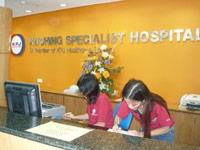 KPJ Healthcare is a healthcare focused group, and its portfolio of businesses includes hospital management, healthcare technical services, hospital development and commissioning, nursing and healthcare professional continuous education, pathology services, central procurement and retail pharmacy. In line with its corporate vision, the Group consistently seeks new opportunities local and abroad, all to ensure the Group's continuous growth. The corporate philosophy which inspires excellence, encourages individual initiative and teamwork, harnesses strategic synergy and the collective focus of its resources, and professionalism contributed largely to the Group's achievements.
The corporate philosophy supported by the corporate mission, to deliver quality healthcare services to our customers' is further strengthened by the Group's 5 Core Values namely Safety, Courtesy, Integrity, Professionalism and Continuous Improvement, which have been internalized by the Group. Through KPJ Healthcare's main strategic business unit, the business of hospital management, the Group owns and manages 13 private specialist hospitals throughout Malaysia. In addition, KPJ Healthcare also manages 2 hospitals in Indonesia and 1 in Dhaka, Bangladesh. The Group has five additional service companies that provide year round services to support the hospitals operations. KPJ Healthcare has a pool of expert professionals and experienced managers giving it a firm foundation within the healthcare industry. As KPJ Healthcare approaches its 25th anniversary, it is positioned to become the major player of healthcare services both nationally and internationally.