The Procedure
The orthopaedic surgeon will make 2 or sometimes 3 small incisions of pencil size in your knee. A sterile solution will be used to fill the knee joint and rinse away any cloudy fluid. This helps your orthopaedic surgeon see your knee clearly and in great detail.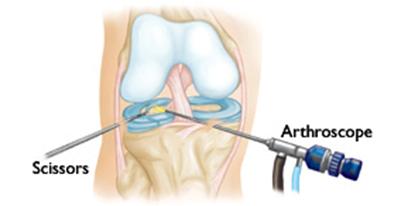 Knee arthroscopy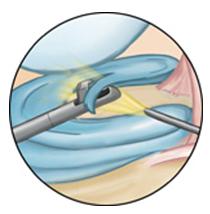 Close-up of meniscal repair

Your surgeon's first task is to properly diagnose your problem. He or she will insert the arthroscope and use the image projected on the screen to guide it. If surgical treatment is needed, your surgeon will insert tiny instruments through another small incision. These instruments might be scissors, motorized shavers, or radio frequencies.

This part of the procedure usually lasts 30 minutes to over an hour. How long it takes depends upon the findings and the treatment necessary.

Arthroscopy for the knee/shoulder is most commonly used for:

• Removal or repair of torn meniscal cartilage
• Reconstruction of a torn anterior cruciate ligament
• Trimming of torn pieces of articular cartilage
• Removal of loose fragments of bone or cartilage
• Removal of inflamed synovial tissue
• Recontruction of cruciate ligaments
• Subacromial decompression (removing bone spur) from the shoulder
• Release of contracture of frozen shoulder
• Evacuation of calcific tendonitis of shoulder
• Repair of rotator cuff tear
• Repair of recurrent dislocation of shoulder and labral tear (SLAPS lesion)
• Biceps tendon stabilisation

Your surgeon may close your incisions with a stitch or steri-strips (small bandaids) and cover them with a soft bandage.

You will be moved to the recovery room/ward and should be able to go homeby 6:00 -7:00pm. Be sure to have someone with you to drive you home. For the first day, you are on a bulky dressing to prevent excessive blood clot the joint. You will be reviewed in 1-2 days time to change to a light waterproof dressing when you can start showering. The doctor will inform you when you should change the dressing.